The types and grades room geranium pictured description
Undemanding to care, flowering for several months and are so bright Pelargonium because of the similarity is often called geraniums. Yet this is a separate large family, a photo room species and varieties of geranium to help sort out the existing diversity of these amazing plants native to South Africa.
Growing on the windowsills, balconies and loggias on the indoor geranium, as in the photo may look like a herbaceous subshrub or plants with erect stems, or flowing. All geraniums are of the highest decorative effect. Attention is drawn not only simple or double flowers of all shapes and colors, but also the unique leaves of the plant.
They can be broad, almost rounded, sculptured rugged, palmate, smooth corrugated, green and colorful.
Long known for potted geraniums as spectacular and hardy plants, led to the fact that the last hundred years:
It was obtained by a great variety of varietal forms pelargonium;
open domesticated and wild species;
there were interspecific hybrids.
Therefore, the current classification is a kind of plant lovers around 250 distinct species and varieties of indoor plants gradation adopted in the international community gardeners, offer to use their identification based on external signs, as in the photo, varieties and species of geranium room:
Stellar - stellate room geranium, their varieties and hybrids;
Tulip - tulip Pelargonium;
Unique - room geranium only ones;
Zonal - zonal or bordered domestic varieties of pelargoniums.
Angel - room geranium angels;
Coloured Foliage - variegated varieties;
Cactus - kaktusovidnye Pelargonium;
Ivy-leaved - plyuschelistnye geranium, which can be of standard dimensions, and dwarf and thumbnail;
Miniature and Dwarf - miniature and dwarf plants potted pelargoniums;
Regal - regal geranium;
Scented-leaved - scented geraniums.
Or bordered zonal Pelargonium (Pelargonium zonale)
All kinds of hybrids and varieties of this species Geranium room, as in the photo, grow well in a home on balconies and even on city flowerbeds. It is an undoubted leader in popularity and number of cultivated varieties bred, which has about 75 thousand today.
Among other domestic perennial geraniums zonal plant is easily recognized by the characteristic color of the leaves. On a bright green background clearly visible darker areas, which gave the name of the species of indoor geraniums, as in the photo. Zonal Pelargonium flowers can be as simple and terry.
In describing the varieties of geraniums in the photo, and in the names of plants using the following grading on the number of petals in the corolla:
nemahrovye flowers consist of five petals - Single;
semi-double flowers include from 6 to 9 and are denoted petals Semi-Double;
double flowers geranium consist of 8 or more petals - Double.
Terry varieties are sometimes referred to Peony- geraniums, slightly wrong. This group of plants in the classification of recognized by the international community not.
Zonal geranium flowers differ not only in size and splendor. Long gone are the days when the windows adorned only red geraniums.
Depending on the type and species of pelargonium pleases eyes umbrella inflorescences of all shades of pink, cream, burgundy and crimson. Not uncommon plants with white, multicolored and even with yellow corolla, as geranium varieties photo titled First Yellow Improved.
But that's not all the strengths of the room geranium. Special attention from growers use varieties with uncharacteristic type form of the flower.
Rosaceae (Rose-bud Zonal pelargoniums)
An example is the rozovidnaya, as in the photo, geranium with double showy flowers, in structure and external appearance resembles a miniature English roses.
This kind of room geranium, its name and photo colors have been known since the last century in the world. The first information about the plants was published in the "Bulletin of the Royal Society of Horticultural Britain" in 1876. But in our country Rosaceae grade - while not widespread and are found only in the collections of the most enthusiastic gardeners.
Tulip room geranium (Tulipe-bud pelargonium)
A century later, growers got home geranium plants with flowers that even at the time of full bloom, have not been disclosed, remaining in the bud stage.
As a result of this, shown in the photo room geranium called tulip. Start varieties gave a spontaneous mutation, and exist today a few varieties and hybrids tulip geranium in growing or breeding sometimes try to return to the natural form.
Stellate room geranium (Stellar Zonal Pelargonium)
In the middle of the last century, florist Australia managed to get a room geranium having the original shape of the corolla is not similar to the pre-existing varieties.
Because of the acute-angled narrowed room geranium petals, the photo, called the stellate.
Currently available florist varieties and hybrids, not only with simple and double flowers of all colors, but the stellate Pelargonium with bright multicolor leaves.
Kaktusovidnye home geranium (Cactus Pelargonium)
Received at the turn of the XX century kaktusovidnye geranium today are extremely rare. A characteristic feature of these plants - large flowers with narrowed, sometimes needle-like petals that give the rim sloppy disheveled appearance.
Gvozdikotsvetnye Pelargonium (Carnation Pelargonium)
Potted geraniums in the photo, amazing variety of flowers, colors and types. One of the most unusual - gvozdikotsvetnaya zonal pelargonium variety with serrated petals, giving the similarity with flowers carnations.
Pelargoniums plyuschelistnye (Ivy-leaved Pelargonium)
Most varieties ampelnyh room geranium, as in the photo belong to a large group of pelargonium and leaves that resemble a dense green foliage ivy. Because of this similarity, many varieties with simple and large double flowers and is called plyuschelistymi.
Ampelnye geranium, as in the photo, it is a plant with creeping or flowing stems, reaching meter length. In the culture of these varieties are indispensable for vertical gardening, and to decorate hanging baskets. Potted Pelargonium and are used as a ground cover plants.
Leaves ampelnye geranium thick, leathery, unlike zonal species, entirely smooth.
Very interesting variegated forms plyuschelistnoy geranium, as in the photo.
Royal Pelargonium (Regal Pelargonium)
Many room geranium were obtained by breeding and hybridization between species. Through such efforts were royal Pelargonium with flowers up to 7 cm in diameter.
The peculiarity of these varieties and hybrids is not only the size of simple and semi-double corolla, but also in their multiple colors. On the petals necessarily have spots, streaks or specks of contrasting colors.
Pelargonium Angels (Angel Pelargonium)
Pelargonium Angels in appearance resemble plants 'royal' variety. But the flowers are somewhat smaller, and the existing varieties were obtained from crosses with curly Pelargonium grandiflorum.
Angels - this is basically ampelnye geranium, as in the photo, forming a magnificent crown of shoots with medium-sized monochrome foliage.
Pelargoniums uniques (Unique Pelargonium)
Hybrid plants produced from Pelargonium royal and brilliant, came to be called unique. This group belongs to the oldest varieties, although it is not so easy to find plants in the collections of gardeners.
Although the flowers of this species, as in the photo room geranium, similar to the royal plant flowers, but they are much smaller. But the foliage is often cracked, crimped, as well as a very pleasant odor.
For example, a green image in the photo geranium varieties named Paton's Unique has a sweet fruity aroma.
Scented geranium (Scented-leaved Pelargonium)
It was the smell of the pounded leaves of geraniums and drew the attention of the person in this plant. Until the last century, the focus in the selection of potted geraniums was not on the beauty of flowers and the flavor, because the plants were "living deodorants."
Similar varieties and hybrids geranium popular today. They have not hit a bright blooming flower clusters, or form, but are used for flavoring and cooking dishes, and household fragrances for storage of linen or clothing.
Depending on the species and variety, as in the photo, it leaves room geraniums can smell all sorts of fruit, mint and roses, nutmeg, carrot or needles.
Geranium: species, care, name, photo
Amateur gardeners to design flower beds and window sills used geranium, which is known for simplicity of maintenance. Amazing coloring attracts landscape designers and homemakers who want to create a special atmosphere in the room. Geranium, which affect the species diversity, became a favorite of gardeners, because the view was that this plant blooms in the home where true love lives.
In common flower called the "eagle's foot", "grabelnikom9raquo ;," roadside needle. " The word "geran9raquo; It comes from the Greek geranos, which means "zhuravel9raquo ;. In Europe, the plant arrived in the 17th century from Africa, having won the aristocratic beauty and a unique flavor, and was refined in addition to luxury apartments. Over time, the flower has migrated to the sills of members of other classes, acquiring democratic status.
Beautiful gardens and window sills - Geranium
It so happened that the scientists for a long time could not decide whether to put an equal sign between geranium and pelargonium but in the minds of the layman, these plants are identical. Today, landscape designers prefer to use undemanding plant for decoration, not only indoors, but also the garden and parkland. On the territory of our country spread over 40 species of garden geranium. Deserved popular as a worthy withstand particularly cold climate, and species of geranium (photos are presented in the article) of heat-loving varieties. Plants differ in growth conditions, the timing of flowering, height:
tall (50 cm) - is Georgian, meadow, red-brown, timber, ploskolepestnaya, splendid, melkotychinkovaya;
undersized (below half a meter) - Dalmatian, Himalayan, ashy, krupnokornevischnaya.
Gardeners prefer when you make flower beds and adjacent areas hardy plants. Skillfully using geranium varieties that have proven themselves well in a temperate climate, you can decorate the area without too much hassle. Plants are able to please the owners of long flowering and lush greenery. Given the characteristics of the site, its size and opacity, you can easily choose the options that will justify the hopes placed in them.
Owners should take a closer look at the existing site in the territory of varieties of geraniums, which over time will demonstrate the best quality and "propishutsya9raquo; in comfortable conditions for them.
Winning geranium varieties for the landscape
All known Geranium pratense, otherwise meadow cranesbill, - today a frequent guest in the flowerbeds. This species had never been in demand, but now everything has changed. Fans of undemanding plants know what is geranium varieties. Photos and names of the most popular varieties, we will introduce you today, and you can pick up an interesting mix of green pets to your liking. Well-chosen options allow to transform the territory, attracted the eyes and admired even experienced landscape designers. For background, tend to use strong and tall cultivar Summer Skies, remarkable pinkish lavender with hints of double flowers. Demand and high with the original carved leaves Splish-Splash, but after flowering is recommended to trim the bush, so as not to detract from the beauty of the new shoots. Immediately charm Plenum Violaceum dark blue baskets, shimmering purple hue. Although Terry melenkie flowers, it does not spoil the overall impression. But this sort of as Double Jewel, very enthusiastic gardeners have no cause of nondescript color and enormous size collapsing bush in the second year.
From the shade-ideal embodiment Mrs Kendall Clark (to form a completed plot). This low abundant flowering plant growth (40 cm) captivates bright blue petals permeated soft white streaks. And lovers of white colors attracts with its Semi-double long flowering variety - elegant Laura.
Krasnolistnyh meadow cranesbill will adorn the terraces and flower beds. Such variants will look well in the foreground. Purple leaves shade Midnight Reiter and Purple Heron bring flavor to the flower garden. Carved dark green, compact root system Hocus Pocus, Black Beauty, Okey Dokey probably will to the court. A purple stains on the leaves of Midnight Clouds and delicate pink flowers become a winning touch in the formation of the territory.
Geranium macrorrhizum - krupnokornevischnaya geranium, admirable, because it is perfectly acclimatized in the shade and under the scorching sun, growing and adapting in every corner of the garden plot.
Legends and amazing facts about geranium
Plant their usual for each grower is required to view the breeder from England Tradeskanu George, who was fascinated with the head of the process of its breeding. And with the birth of each new variety gave him the original name, which is associated with an angel or butterfly. they created varieties of geranium affects not only the beauty, but also healing properties. Thus, the Royal variety received the name from the fact that the plant saved the monarch from insomnia. There is a legend associated with geraniums, which have come down to our times.
East Legend has it that in ancient times on the weed, which does not attract people, the Prophet Muhammad came down from the mountains, hanging wet clothes. Spread the plant tissue, thereby cape quickly dry out in the sun. For this the prophet bush decorated with marvelous flowers exude delicate flavor.
Legend of the crane, otbivshemsya from the pack and fallen from weakness in the field under the icy rain, pathetic. Quiet freezing alone bird was covered with falling snow. Saying goodbye to life, a crane dropped a tear. On the spot in the spring grew wondrous plant with flowers resembling azure sky, which missed the bird.
In Germany, we talked about the shoemaker lyubivshem drink and have found one after another spree on wonderful plant road. When he gave his wife a flower, the one inhaling his scent, thought better of scandals due to her husband's addiction to beer. She planted flowers in the water, and when there were roots, planted in a pot, then the peace, tranquility and love lived in the house, and the husband stopped abusing alcohol.
According to the Slavic legend, geranium petals attracted the attention of a lover. They are sewn in a canvas bag and wore himself.
In the East, it decided to put the pots with white geraniums in front of the house to scare away snakes.
Meet closer - a great geranium! Species and varieties
Not only on the garden plots can be seen a beautiful flower. Adorn windowsills for centuries is a geranium, a florist varieties baffled, because the eyes diverge from their diversity. Breeders brought new varieties, which differ in shape, color of inflorescences and leaves. Room geranium is classified into several groups:
zonal;
hang-downing (plyuschelistnaya);
fragrant;
royal;
succulent.
To not make the wrong choice, you should carefully examine the varieties of geranium room. Photo and name will help determine the future owners.
It is considered the most common zonal geraniums. This plant with a straight trunk and leaves wavy shape blooms profusely throughout the year, bringing the joy of the household. Buds can be simple, collected five, semi-double - up to eight and terry - over eight petals.
What is the zonal geranium species and varieties? Photos (room beauty presented to them in all its glory), used in the paper demonstrate the different options. The most popular among the people:
Pastel Nemahrovy grade Bravo, characterized abundant flowering. In this type of flower with white petals and pink midway.
Solid Red Rumba Fire refers to nemahrovym and happy owner of spreading ruby ​​color caps.
Angelic pink geraniums and looks like a pansy.
Rozebudnaya red surprising similarity of its flowers with buds of roses.
Royal Salmon has a large inflorescences, which are darker than the middle.
And how do you find such a variety of geranium? tulip
Among the huge range of colors it has a view, which is reminiscent of Holland. Novice gardener asks the question: "What else is geranium species and varieties?" Photo (room beauty depicted on them, striking violent flowering) of these colors attract admiring glances fans of ornamental plants. One of the chic options relating to the zonal varieties, is the original geranium, which has buds that resemble tulips. Petals in the number of 6-9 pieces. is not fully disclosed. Breeders of America gave the world in 1966, the variety, which was obtained by mutation of geranium Fiat. Of particular value are species that have a large number of unopened buds and flower bouquets heap.
They grow a bush, therefore, require the attention of the owner, who should properly form the crown. After rooting stalks are cut to achieve the beauty and the desired result. The elegance of the variety attracts enthusiastic you love people who grow real masterpieces if desired. Especially popular among the connoisseurs of beauty enjoys tulip geranium, which are dazzling variety of colors form. This Happy Bozdey Patricia and Andre, Ed Pandora and Horses, Victoria Andre and Marie-Louise.
Popularity geranium is great, not only because of the splendor of colors, but also a delicate aroma that exudes plant. Scented geraniums creates a favorable climate in the room, helping to cleanse the air. Fragrance leaves demand in the fragrance and food industry, widely used in preparing the mixtures for tea compositions.
Scented geranium variety of room, a photo of which is familiar to fans of the plants grown on the windowsill not for the flowers, and for the sake of carving beautiful foliage, which is used by florists for background. Also in medicine note the positive impact of flavor plants which:
antibacterial effect;
It helps with migraines;
It helps protect the body against viral diseases;
effectively swelling in obese people;
salutary PNDS crises.
Experienced mistress seek to establish a pot of geraniums in every room because the smell repels insects (flies, moths, mosquitoes). Loss of leaves, you can feel the aroma of mint, fresh apple, rose and lemon. Grades:
Chocolate Peppermint (or Felt geranium) - is undersized plant with drooping shoots, velvety leaves, centered chocolate spot, exuding the fragrance of mint. On flower petals pinkish purple feathers there.
Cy's Sunburst, or curly geranium has small, resembling corrugated paper variegated foliage green with golden rim, having the odor of lemon.
Attar of Roses, or capitate - grows to 45 cm, has a large leaves that give a saturated rose aroma. Flowers are bright with purple and burgundy tint midway.
Ffragrans - geranium, which has the smell of nutmeg. Despite the simplicity plant, flower growers have to make some efforts to cultivate at home beautiful geraniums.
Species (with photo and name), care and characteristics of growing - these are the main points of interest to beginners florist-lovers. Widest range will allow inexperienced hostess to get the house in such a plant-talisman. The case for small - to learn how to take care of the green pet.
Features of cultivation and maintenance: temperature, reproduction
Summer geranium feels comfortable at a temperature of +20 ... +28 ° C, and +30 ° C and is not critical for it. In winter, when the plant does not bloom, it is enough to 11-15 ° C, but avoid undesirable decrease to 8 ° C or more.
Propagated geranium cuttings and seeds. Adult plant with rough trunk is necessary to rejuvenate. Apical stalk with five leaves are cut off just below the node at a slight angle. After processing freshen slice humate or charcoal placed in the process container with soil (a mixture of equal parts of turf, sand, and peat). Regularly sprayed soil, which after three weeks take root cuttings, which are then transplanted into pots. Young plants (regardless of the species of geranium), taking care of that right, please within seven months of the first color.
Seeds are planted in moist soil, preventing drying earthen coma. Matured temperature +22 ... +24 ° C. After 14 days the first shoots appear. A pick advised seedlings in pots of 9 cm in diameter before.
Today, any mistress effortlessly grow geranium varieties which do not differ moody disposition. Colors suitable premises with good and moderate lighting. She feels comfortable on any windowsill long summer days, and in winter is preferable to place it on the south window. Sun plant is not recommended to temper the drafts or left under the scorching. Heliophilous flower, placed in the shade, has small leaves, thin stems and are unlikely to bloom.
Caring properly: watering, humidity, fertilization
Geranium prefer fresh air and moderate humidity. She fears neither dry nor moist air. The plant does not require spraying. Summer needs abundant watering, but do not overdo it in this matter, so the water from the sump to drain better. In winter, fill the flower is not worth it, you must make sure that the earthen room was not too dry, and excessive moisture will cause root rot. For irrigation is recommended to use rainwater, melted snow or the supernatant water.
The plant requires a universal potting soil (deciduous earth or humus, sod, river sand). To feed use fertilizers containing nitrogen, potassium, phosphorus (for violent flowering), supplemented with trace elements of iron, magnesium, boron, copper, manganese, calcium and zinc, preventing rotting of the root system. Winter green pets need to be fed once a month, and in the spring and summer - two weeks.
In the fall crop plants produce each year, removing the yellowed leaves, leaving only a few nodes on the shoots. Slices sprinkled with wood or activated carbon.
Like any plant, geranium has pests that can affect the structural condition of the flower. Among them whitefly, which settles on the reverse side of the leaves, where it multiplies rapidly, feeding on plant sap. Small moths deplete the plant. Upon detection of intruders is required insecticide spraying crown flower. Geranium leaves on the lower side and small insects settle greenish-gray color. This aphid feeding on plant juices, which leads to the appearance of small spots and wilting flower. To get rid of this parasite is worth the same as on the whitefly. With proper care flower for many years will give joy to the owners.
So, to sum up the results summary. We discussed what is geranium species. Photo bedroom beauty on which is represented in all its diversity, demonstrate that it is worthy to decorate any room: house, apartment, office, child care center, a terrace cafe or suburban area. Pick a couple of species to see - you will not regret!
Room geranium: photos, species and varieties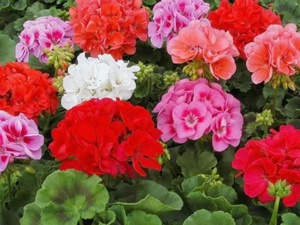 Pelargonium (Geranium) - is suffrutescent or herbaceous flower, geranium which belongs to the group. More than 400 varieties of it are found in all corners of the world. It received its name from the Greek name of the shape of the fruit, which are similar to cranes beak, and in Germany, this flower is called the "nose of a stork."
In Europe, pelargonium were imported from Africa in the 17th century. Peculiar smell, and ornamental plants have won her great popularity in aristocratic circles, and then began to appear geraniums in the gardens of other classes. In our country pelargonium came in the 18th century, and since that time has become the most favorite flower almost all gardeners. This is due to its beautiful flowers, dynamic growth and unpretentious in care.
Pelargonium species: photo and description
In the wild, there are about 250 species of geranium. Development breeders helped to create many hybrids and varieties characterized by their form, color of leaves and inflorescences. Pelargonium room is divided into several groups: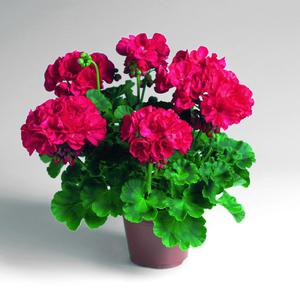 This flower is the most popular variety, as well as numerous species that have a large number of varieties. All varieties of geranium fairly stable and are characterized by lush flowering. In most cases, all of the class room geranium have direct trunk rich refrains foliage shape and surround a brown or red tint. The leaves of this variety are pubescent, and at the same time they create a peculiar smell.
The shape of the zonal pelargonium flowers are:
Terry - on the flowers more than 8 lobes;
Semi-double - on the flowers to 8 petals;
Usual - have 5 petals.
The form of this variety of flowers, too, is different:
Tulip, like a closed tulip flowers;
Rozebudy, with pink or red bud-like form is not fully open rose;
Cactus with twisted and narrow petals, reminiscent of red chrysanthemums;
Stellate, leaves and flowers of the same shape as the stars;
Formosa, with flowers in the form of sprockets and dissected into 5 parts foliage;
Deacon, small flowers are collected in a bouquet of purple, red and pink shades.
Coloring the petals is also distinguished by its diversity. They can be multi-color, two-color or monochrome, with or without a border. Separately isolated flowers, which are called "bird eggs", They have dark blotches ovate with dotted dots and stripes. Flowering varieties of pelargoniums occurs during the summer, and if the plant is not put in the winter in a state of rest, it can bloom all year round.
Zonal pelargoniums are divided and height:
Microminiature - 14 cm;
Dwarf - 14-25 cm;
Normal - 25-70 cm;
Irene - up to 70 cm.
The name of this type of geranium given by the colors of the leaves with clearly defined areas, a central portion and bezel have a different hue. The edging can be red, white, blue and burgundy colors. The middle sheet is very different, even a black, silver or gold. There are varieties with tri-colored foliage.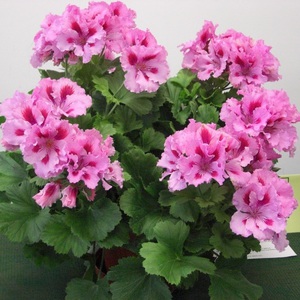 It is considered the most attractive plants of this variety. It has very large flowers of different colors: pink, white, purple, burgundy and red. flowers can reach a diameter of 16 cm., and the same size in height.
Hybrids of this plant have started to appear in the 19th century, and became a royal geranium room a favorite of gardeners everywhere. Her large flowers terry or plain forms are fluted or wavy petals, on which all the time are streaks or dark spot, which is a characteristic feature of this kind. Two petals on top of the larger and more velvety than others.
The plant can reach a height of 15 cm. If you look at photos of royal geranium, it can be seen that the rough and jagged leaves are very similar to maple leaves, and at the same time are both monophonic and bright.
This variety is Pelargonium most whimsical flower of all the geraniums, at the same time of flowering is much smaller than the other (no more than 4 months) and occurs only after two years of growth.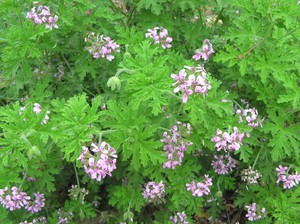 This variety of geranium has the most pleasant aromas, for it got its name, as well as recognition of the gardeners. If you carefully touch the leaf plants, you can immediately feel the various strong flavors, among them you can feel a lemon, rose, strawberry, ginger, mint.
To date, derived hybrids that smell like apple, nutmeg, lilac, almond, pine and even pineapple and kiwi.
The flowers of this small room Pelargonium and usually have purple or pink, as well as different shape. Bright incised foliage is 5-7 parts. In the photo you can see that the foliage geranium looks like terry.
The use of scented pelargonium
From this cultivar extract geranium oil, which has a large number of unique properties, and has a vast application in medicine, perfumes, cosmetics, as well as in cooking. This oil is added to the syrups for drinks, jellies and candies. A couple of drops of oil to clean, which is found sometimes, bad milk.
The leaves of this variety are added to teas, cakes and fruit dishes. With the help of them made fragrant sugar. Why in a glass bowl placed layers of sugar and leaves. Bank 14 days expose to the sun. After the leaves are removed and immediately the sugar used for the manufacture of various dishes.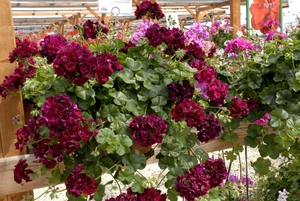 This variety of geraniums is ampelnye kind of herbaceous plants. Fragile and pull-down the shoots of this plant can be up to 1 m. The shiny leaves rich green color in the form of stars reminiscent of ivy, which gave the name to this flower.
Flowers in the bud can be terry, semi-double size and simple to 5 cm. Their color may vary from pure white to black and blue. Flowering takes place early summer to late autumn.
It looks great as decoration loggias and balconies, especially when in a suspended pot planted several species with different color of buds.
This type is characterized by violotsvetnymi geranium buds that "Pansy eyes" like a flower. Plant to 35 cm. Height (at constant pruned) It has a rather elegant form, lush branching and unpretentious in the care. Blooming continues throughout the summer, the flowers can be pink, white, purple, violet with dark stripes or spots on the two upper lobes.
The age of these colors goes back more than a century. Only ones were obtained by crossing brilliant and royal varieties. The dark green leaves of the plant are cut strongly and have a light spicy scent. Flowers much like a royal geranium, but slightly smaller in size. As a rule, they have a middle of white and red color of the leaves. Varieties of pink and white are scarce. Some kinds of different dark streaks and spots.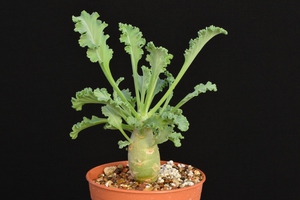 This is a rather unusual sort of geranium. Woody stems of plants from below strongly curved and branched. When the air dryness and discards weak watering bush leaves. The plant has a rather fanciful shapes that resemble various fantastic creatures. Branches sometimes have thorns. This flower usually selected for processing bonsai, and as exotic plants for decorating the room. Of the 10 species of this plant, as a rule, can be found geranium kortuzolistnuyu, hunchbacked, pushistolistnuyu, fleshy, angular and tolstostebelnuyu.
The popularity of this sort of geranium earned through their silnorassechennye, pubescent, bright green leaves of complex shape. Bush is quite high, it can grow up to 1.5 meters. When you touch the leaves begin to emit a strong scent of lemon.
For the unique healing properties of many types of geranium, Bulgarians call it "health resort". And in fact, it greatly helps in many diseases:
Toothache passes if geraniums hold long in the mouth;
Inflammation and feeling the pain of otitis media can be removed mashed leaves scented pelargonium, if lay them into the ear canal;
Infusion geranium is great for stress and nervousness, as well as treating gout and colds;
Attached to the wrist leaf geranium stabilize pressure;
Itching, wounds, eczema and edema using baths of leaves;
The aroma of this flower eliminates irritability, insomnia, and headache;
The plant also helps the pet in the treatment of ear mites;
Broths roots and leaves are used for kidney disease, diabetes and deposition of salts.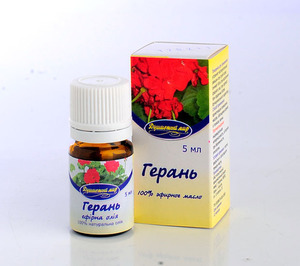 Speaking of the Pelargonium, you can not fail to mention the essential oils that are made from this plant. Today, without the use of already does not do any cosmetic or perfume or confectionery or soap industry. Also, this oil can not be without coloring and dressing of certain types of skin.
In folk medicine, a couple of drops of oil diluted in a glass of water is used to treat ulcers, urinary tract infections, diarrhea, diabetes, bleeding.
Also, this oil is an anthelmintic agent. Oil bath used as eczema, burns, high pressure and headache.
But do not forget that, like all the traditional methods of treatment, use geranium has some contraindications, while it can not replace medical therapy. Because before seeking treatment with it, it is necessary to consult a doctor.
Geranium perfectly cleans the air, removes odors (e.g., soot). At the same time it is well struggling with moths, flies and mosquitoes.
This flower is considered a talisman that protects the house from the many ills and does not go to him to people with bad intentions. The plant has a positive energy, and therefore many superstitions and omens associated with it, have a positive focus.
If the home is the flower, the household almost never suffer from stress and do not quarrel. According to ancient beliefs geranium oil protects against the evil eye, dark forces and other evil spirits. And the girls were carrying small bags filled with geraniums to attract suitors. And the ladies at the age they helped preserve youth and attractiveness.
Blossoming white geranium was a sign addition to the family, because it is the custom to give it to couples who for a long time can not have children. In this white geraniums still protects from ruin and disaster.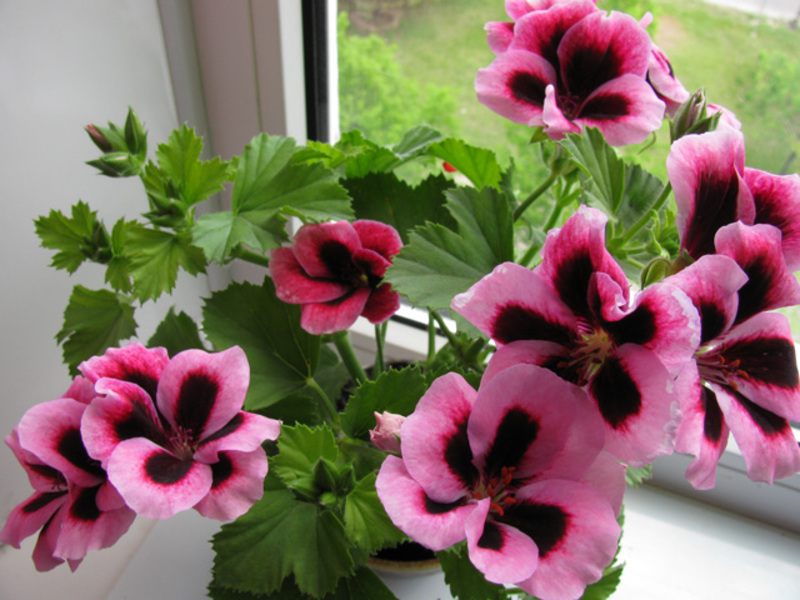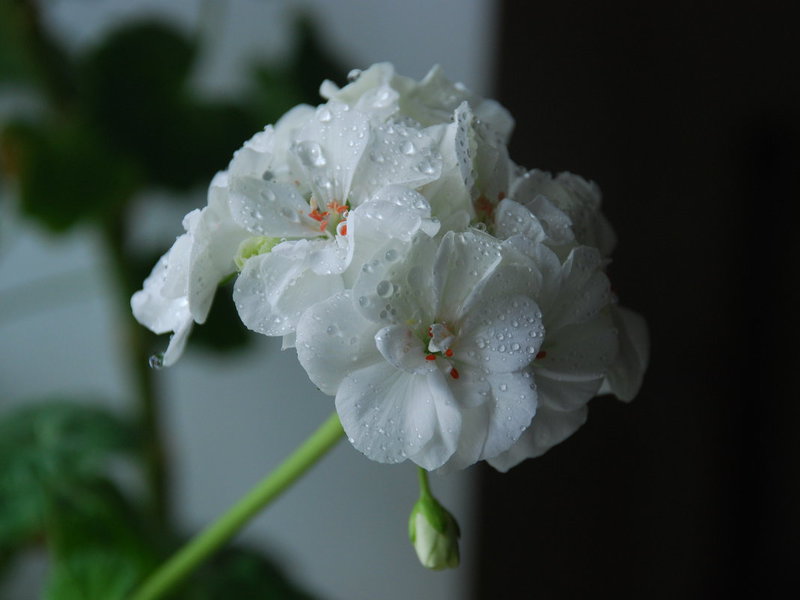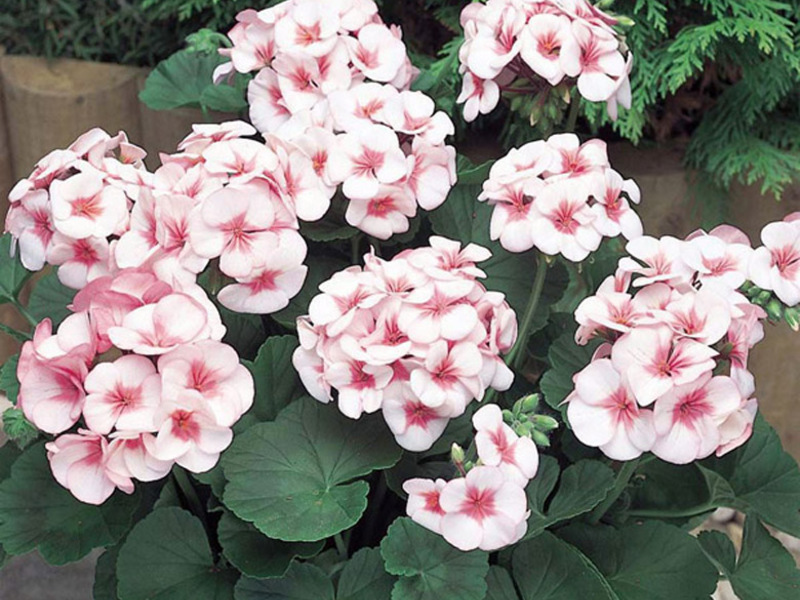 But red geranium useful for those couples who are always in conflict. This flower carries in the house calmness and removes all negative emotions.
Big role and rose geranium. She can resurrect extinct feelings of spouses for a long time of living together. It returns the emotion, passion and impetuosity in the relationship. Also it is used against witchcraft. Since it is the flower of delight, then it is advised to keep in homes where creative people live.
Also there is a belief that the geraniums, the more red, helps its owners to properly manage money, that accompanies the material well-being. And if it is set near the azalea pot, then the flow of money is not necessarily inevitable.
Astrologers say that the room geranium can quickly extinguish the anger and wrath, to neutralize the negative energy in the room, to develop a sense of humor and relax the nerves.
In places where there is a geranium, never usual snakes.
If this plant is, in fact, is at least part of the prescribed properties, the question whether it is possible to plant geraniums at home is no longer relevant, placing it on your windowsill, perhaps, it will be possible to decorate your home and get rid of many problems in the family and home .